Learning at Home during Lockdown.
The 2020 school year is rapidly evolving to be something very different to the one we had planned, due to the impact of COVID-19 globally and in New Zealand. This letter contains information and ideas for activities to help you carry out an adapted learning programme from home.
We know that many families will want to keep some consistency around learning, however, during this time please prioritise your own and your child's mental and physical health over their academic learning. Learning at home can be quite stressful for families, as children are a lot more likely to protest than they are in the classroom! We suggest that you do not try to replicate a classroom programme, and spend no more than two hours over the course of a day on school related activities and be guided by what works best for you and your child. We recommend a total of 10 – 15 minutes maximum per learning area each day. You might spend 10 – 15 minutes reading together, 10 – 15 minutes doing some maths or 10 – 15 minutes writing together throughout the day. At other times your child could read independently, work on art and craft projects or complete independent tasks or a research project. 
We understand that everyone will have different home situations in regards to internet and device access, family members working from home or being away. We have complete faith that you will make the right decisions for your family and manage any learning at home in the best way possible. 
Please keep in mind that the two week holiday period falls within the current lockdown timeframe. Officially this starts on Monday 30th March through until Tuesday 14th April.  It is important that your child does get a break from structured learning. This two week break will also be important for our teachers to recharge and rest. 
Please find attached a list of ideas for home learning activities for each syndicate. There are a myriad of options for learning online but also plenty that do not require internet access or screens at all and are heaps of fun for all the family. 
Please check your email, Seesaw and the school facebook page regularly for updates from the school and your class teacher. Year 5 and 6 students should also regularly check their class's 'Google Classroom' page if they have one. 
We would like to thank-you for your support during this time. We are looking forward to continuing to connect with you and your family.   
Stu Devenport
Principal
Junior Students Home Learning Ideas
Middle Syndicate Home Learning Ideas
Senior Syndicate Ideas for Home Learning
Other Home Learning ideas
After much deliberation and consultation with staff, students and the community,  the Senior Leadership Team has decided to scale back our homework programme across the school in 2020. 
Current research has shown that for primary school aged students most homework tasks do not improve academic outcomes (Kohn, 2006; Cooper, 2006; Blazer, 2009; Farrow, Tymms & Henderson, 2013) and do not help young children develop study or time management skills (Hattie, 2009). The only homework activity that has consistently been shown to improve outcomes across a range of measures for primary students is reading (Allyn & Bacon, 2005). 
Junior students will continue to have a reader issued each night, Middle and Senior school students will be asked to read independently for at least 10 to 20 minutes each evening and keep track of their reading in a reading log. If sustaining independent reading is a struggle for your child then reading with or to them each evening is also hugely beneficial. There may be times throughout the year that students will be asked to complete some additional homework for a special project. 
We encourage families to use the time that would otherwise be spent on doing homework to do activities that research has shown improves student outcomes: spending time outdoors, preparing and eating dinner as a family, playing board games, reading together, reducing screen time and getting to bed early! 
If you would like your child to complete learning tasks at home, there are some handy link below that we would recommend:
This section provides some ideas for how you can raise awareness and share mathematics using everyday experiences and resources found around your home. It includes ideas for supporting your children's learning in all areas of mathematics: geometry, measurement, statistics, algebra and number.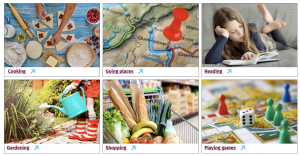 Below are some ideas you could encourage your child to do at home, based around their passions and interests.
Maths
Maths posters

Basic Facts

Multiplication and Division Facts
Literacy
Poster about books or authors

Research Posters about a topic that interests you

Book Reviews

Pamphlets

Spelling Activities

Power points/slides or movies about interesting topics

Epic – A digital reading platform for kids 12 and under. It has 40,000 books, audiobooks, learning videos, quizzes and more. Both English and Spanish books are available. 
P.E.
Create a fitness circuit

Invent a game for others to play

Create a healthy menu for your family

Help someone at home to cook a meal

Research a new sport
Other Curriculum Areas
Sketch objects from home

Paint a picture of a scene from a holiday place

Conduct some science experiments at home and record your results

Write your own song or rap

Choreograph and record a creative dance

Design and create a poster promoting our EnviroSchool principles

Practising simple Te Reo Maori phrases around the home.
If you are interested in purchasing workbooks to support your child's learning at home, we would recommend: